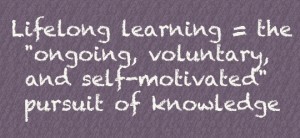 Nobody's born smart. We all start at zero:
can't talk, can't walk, certainly can't do algebra,
adding, reading, writing, riding a bike.  Nobody's good at anything at first.
There was a time when Einstein couldn't count to 10, and
Shakespeare had to learn his ABC's just like the rest of us.
Thankfully, we're born to learn slowly, surely.  You stumble, slip, crawl,
fall, and fail, and fall–frustrating, confusing, trying, struggling.
Until one day, you walk.
One foot in front of the other; one idea on top the next,
each wrong answer making your brain a little bit stronger.
Failing is just another word for growing. And you keep going.
This is learning:
knowing that you'll get it even if you haven't gotten it yet,
because the most beautiful, complex concepts in the whole universe are built on basic ideas
that anyone can learn, anyone can understand. Whoever you are, wherever you are,
you only have to know one thing: You can learn anything.
-Khan Academy
 Our American Stories
History comes alive with Lee Habeeb
 ***Learn Online with Free Video Lectures ***
Kahn Academy: Indepth and specific demonstrations of math and science topics.
Prager University:  Five-minute lectures on popular topics
Hillsdale College:  United States Constitution, history, Great Books, economics, lectures, and more.
The Ayn Rand Institute:  Philosophy, ethics, art, culture, economics, and more.
GCF Learn Free:  Tutorials in technology (Microsoft Office, social media, etc.), math, reading, and employment
***Homework Help from SLED***
Live Homework Helper: Statewide Library Electronic Doorway (SLED)
Do you need help with library skills?  Refer to Library and Information Skills Review for help.